Tunisian Gastronomy and Cultural Immersion: Wine, Food, and History
Our culinary tour is a feast for the senses, and food lovers will delight in the opportunity to explore the country's rich gastronomic heritage. Tunisia's cuisine is a delicious blend of Mediterranean and North African flavors, with influences from ancient civilizations such as the Romans.
During the tour, you will have the chance to explore this culinary legacy by visiting local markets and spice bazaars, sampling traditional dishes such as brik and couscous, and attending cooking classe where you will learn to prepare authentic Tunisian recipes.
But the food is just one aspect of this immersive experience. We will also take you on a journey through Tunisia's rich history.
Throughout the tour, you will stay in a charming guesthouse that reflects the country's unique architectural style. Our expert guides will provide insights into Tunisia's culture and traditions, and you will have the chance to taste some of Tunisia's finest wines.
.
18-22 DECEMBER 2023
BOOKING NOW OPEN
PRIVATE GROUPS
UPON REQUEST
DEPARTURE 2024
BOOKING NOW OPEN
 STARTING FROM
€1.350
 Per person IncL VAT
Booking is now open, submit your guestlist application to join.
Inclusive:
4 Overnight stays
Private guide and driver throughout your stay
All meals as mentioned in 'daily information'
All excursions as mentioned in 'daily information'
All necessary private transfers mentioned
Meet & Greet on arrival
Exclusive :
International flight to Tunis
Upgrade room type
Travel and/or cancellation insurance
Meals and excursions not mentioned
Personal expenses/tips
Contribution to calamity fund (€2.50 per booking)
Contribution to SGR (€5.00 per person)
Administration costs (€35 per booking)
Our culinary tour program starts with a warm welcome at the airport. Upon arrival, we will transfer you to a charming guesthouse nestled in the heart of Sidi Bou Said, a picturesque village renowned for its stunning vistas of the Mediterranean Sea and a captivating blend of Arab and Andalusian architecture. Take your time to settle in and explore the enchanting blue and white streets of this iconic Tunisian village. To kickstart your experience, you'll have the pleasure of savoring a delightful dinner at the renowned Dar Zarrouk restaurant, where authentic Tunisian cuisine with tantalizing flavors awaits.
Included :
Private VIP transfer
Dinner at Dar Zarrouk restaurant
Overnight stay including breakfast
Day 2 – Medina of Tunis- The City of Carthage
Your adventure begins with a visit to the enchanting Medina of Tunis, where you'll lose yourself in the maze-like alleys, immersing in the vibrant atmosphere of traditional souks brimming with exquisite crafts and aromatic spices.
After a morning of exploration, prepare your taste buds for a truly exceptional dining experience at Restaurant Dar El Jeld, nestled within the heart of the Medina. Step into a world of elegance and charm as you enter this renowned establishment, where the ambiance transports you to a bygone era. With a reputation for excellence, Dar El Jeld is one of the finest restaurants in Tunis, offering a gastronomic journey into the authentic flavors of Tunisia.
Having satisfied your palate, it's time to continue your adventure to the ancient city of Carthage. Marvel at the ruins that once stood as a testament to the great civilization that thrived here. Explore the majestic Théâtre Romain and let the history come alive as you walk through the legendary Baths of Antoninus. The breathtaking views of the Mediterranean Sea and the remnants of Carthaginian glory will leave you in awe.
Included:
Sites visit
Private driver/guide including transfer in a VIP Car
Lunch
Overnight stay including diner and breakfast
Day 3 -Wine Tasting at Domaine Neferis
Embark on an enlightening wine tasting journey where you'll have the opportunity to savor the exquisite aromas and flavors of Tunisia's finest wines. Immerse yourself in the rich tapestry of wine culture as knowledgeable experts guide you through a captivating tasting session. Afterward, treat your taste buds to a gourmet lunch meticulously paired with the exceptional wines, all while being surrounded by the breathtaking vineyards of Domaine Neferis. The picturesque backdrop adds an enchanting touch to this unforgettable gastronomic experience, ensuring a day filled with indulgence, discovery, and pure pleasure.
Included:
Private driver/guide including transfer in a VIP car
Wine tasting
Lunch
Overnight stay including diner and breakfast
Day 4 – Explore remarkable Elixir Bio domain
Immerse yourself in the world of organic farming as you explore the remarkable Elixir Bio domain. Engage in a captivating masterclass with a renowned Tunisian chef, using the farm's finest organic ingredients to create a culinary masterpiece. Discover the art of harmonizing flavors and techniques while embracing the principles of sustainable and organic gastronomy. This hands-on experience not only nourishes your body but also deepens your understanding of the symbiotic relationship between the land and the food it produces. Experience the farm-to-table journey firsthand, as you create delectable dishes that showcase the true essence of organic cuisine.
Included:
• Sites visit
• Private driver/guide including transfer in a private VIP car
• Overnight stay including diner and breakfast
Day 5 – Departure from Tunis
On the final day of the program, enjoy a leisurely breakfast at the guesthouse before our team transfers you to the airport for your departure flight. We hope you've enjoyed your culinary journey through Tunisia and that you'll carry the flavors and memories of this enchanting country with you as you head back home.
Dar Said Hotel is a luxurious boutique hotel located in the heart of the picturesque village of Sidi Bou Said, Tunisia. This beautiful hotel is housed in a restored 19th-century mansion and features traditional Tunisian architecture, elegant décor, and stunning views of the Mediterranean Sea.The hotel's location is ideal for exploring the charming village of Sidi Bou Said with its narrow streets, blue and white buildings, and stunning sea views. The hotel is also a short distance from Tunis, the capital city of Tunisia, where you can visit museums, markets, and historical sites. Whether you're looking for a relaxing getaway or a cultural adventure, Dar Said Hotel is the perfect place to stay in Sidi Bou Said.
Sidi Bou Said is a picturesque village located in Tunisia, just a short distance from the capital city of Tunis. This small village is known for its beautiful blue and white buildings, narrow streets, and stunning views of the Mediterranean Sea. Over the years, Sidi Bou Said has attracted many famous artists and writers, including Swiss painter Paul Klee, German expressionist painter August Macke, French writer and philosopher Simone de Beauvoir, French writer Andre Gide, and American architect Frank Lloyd Wright. These artists and many others found inspiration in the village's charming ambiance, traditional architecture, and colorful flowers and plants, making it an ideal place for creatives to come and find inspiration. As a tourist, you can explore the narrow streets and alleys of Sidi Bou Said, visit the many art galleries and shops, and dine in traditional Tunisian restaurants and cafes, all while taking in the stunning surroundings that have inspired so many great artists over the years.
Carthage is an ancient city located in modern-day Tunisia. It was founded by the Phoenicians in the 9th century BC and became a major center of trade and commerce in the Mediterranean. The city's strategic location on the coast of North Africa allowed it to become a powerful empire, controlling much of the western Mediterranean at its height.
One of the most famous figures associated with Carthage is the great warrior Hannibal. Hannibal was born in Carthage in 247 BC and became a general in the Carthaginian army. He is most famous for leading his army, including elephants, across the Alps to attack Rome during the Second Punic War. Hannibal's tactics and military strategies are still studied today, and he is considered one of the greatest military leaders in history.
Carthage itself is a fascinating destination for tourists interested in ancient history. Visitors can explore the ruins of the ancient city, including the impressive Roman amphitheater, the Antonine Baths, and the Punic ports. The Carthage Museum is also a must-visit destination, showcasing the rich history and culture of the city.
Medina of Tunis & Bardo Museum
The medina of Tunis is a fascinating destination for travelers interested in history, culture, and architecture. This UNESCO World Heritage Site is a living example of a medieval Arab city, and its maze-like streets, traditional houses, markets, mosques, and palaces are an experience in themselves.
Dating back to the 8th century, the medina has been continuously inhabited since then and is one of the best-preserved Islamic cities in the world. It is surrounded by an ancient wall built to protect the city from invaders, and its gates are imposing and beautiful.
Visitors can explore the narrow streets of the medina, admire the old buildings, and visit landmarks such as the Zitouna Mosque, one of the oldest and most important mosques in Tunisia.
Just outside the medina, visitors can find the Bardo Museum, which is housed in a former palace and is one of the most important archaeological museums in the Mediterranean region. The museum boasts an impressive collection of Roman mosaics, ancient artifacts, and Islamic art.
Among the museum's most famous exhibits is the "Blue Room," which contains a spectacular collection of Roman mosaics depicting scenes from daily life and mythology. The museum also features a collection of Punic and Roman artifacts, as well as some of the finest examples of Islamic ceramics and textiles.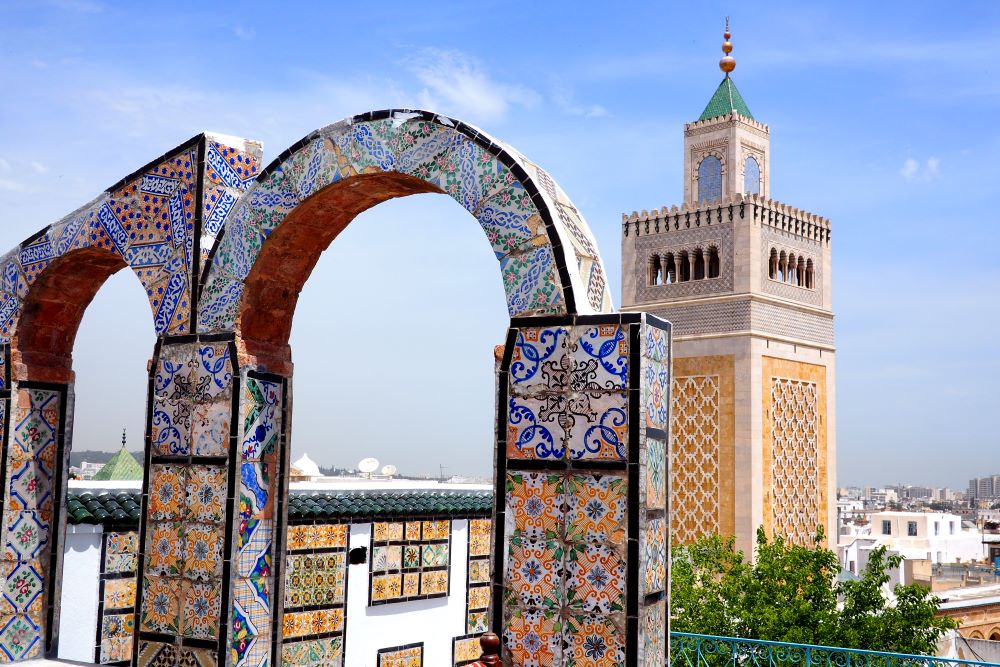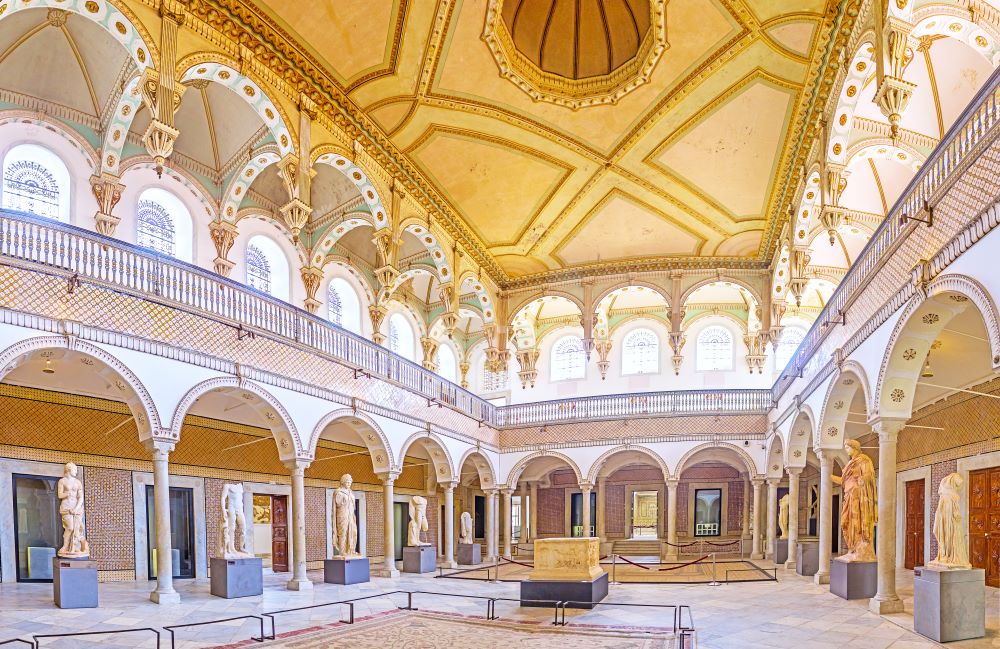 Small group experience 8-10 guests
Private trips for groups can also be arranged.